She is clothed with strength and dignity; she can laugh at the days to come.
We meet monthly for fun, fellowship, learning, and outreach. Our meetings are designed to help each woman grow in godliness as we embrace the word of God. Our meetings are usually monthly on Saturday mornings and include breakfast, an inspiring message, and fellowship. Babysitting is available. Other events include Bible studies, Women's book club, district retreats and district-wide events with dynamic speakers. We build unity through shared times of laughter, learning, caring, and prayer.
This group, led by Ennovy Cortez, meets every Tuesday at 9:30 am in the chapel. They are currently studying the book of Romans, which will be followed by 1 & 2 Thessalonians. Nursery is provided for children age 5 and under.
Women's in person breakfast - November 6, 2021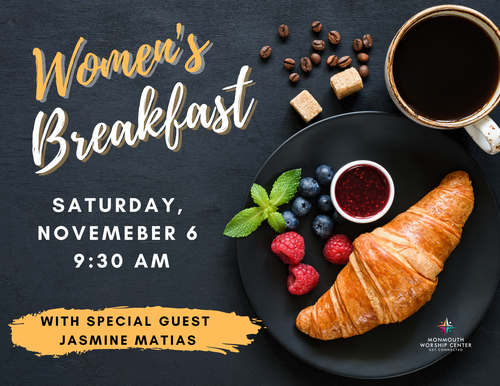 All women are invited to our in-person women's breakfast on Saturday, November 6 at 9:30 am. Jasmine Matias will be speaking. Ladies, come out and fellowship!
Join the women's book club Thursday, January 20, 2022 at 7:30 pm, via Zoom, to discuss "The Masterpiece" by Francine Rivers

The Masterpiece is a probing tale that reminds us that mercy can shape even the most broken among us into an imperfect yet stunning masterpiece.
The demons of successful LA artist, Roman Velasco 's past seem to echo through the halls of his empty mansion. Grace is wrestling with ghosts and secrets of her own. It's as if the jagged pieces of both of their pasts slowly begin to fit together . . . until something so unexpected happens that it changes the course of their relationship―and both their lives―forever.
Join the women's book club's discussion on this book on
Thursday, January 20, 2022 at 7:30 pm.
We'd love to hear from you. Fill out the form below to get started.